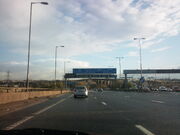 A38(M) "Aston Expressway"
Runs from Dartmouth Circus to M6 Junction 6 "Gravelly Hill Interchange", also known as Spaghetti Junction.
The A38(M) is 7 lanes wide with no central reservation. Overhead gantries control which lanes are open to traffic. Under normal traffic conditions 3 lanes are open either way, however to cope with rush hour traffic 4 lanes are open into Birmingham in the morning and 4 lanes open outbound in the evening.
The A38(M) only has a hard shoulder at the A5127 / A38 end.
Ad blocker interference detected!
Wikia is a free-to-use site that makes money from advertising. We have a modified experience for viewers using ad blockers

Wikia is not accessible if you've made further modifications. Remove the custom ad blocker rule(s) and the page will load as expected.