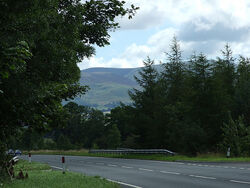 The A66 is a cross-country route across the Pennines which links the Lake District to Darlington. It has been compared to the American Route 66, albeit much shorter.
The A66 starts in Workington, Cumbria at the A596 and goes from west to east across the country over the Pennines through North Yorkshire and County Durham. It finishes just past Middlesbrough, Cleveland, where it becomes the A1085 to Redcar.
As the A66 is a major trunk road, several sections are now dual carriageway. There is a short section running on the A1(M) about 3 miles, then forking off as the A66(M) for 2 miles to Darlington.
Roads joined
Edit
Structures
Edit
Primary Destinations
Edit
External links
Edit
Ad blocker interference detected!
Wikia is a free-to-use site that makes money from advertising. We have a modified experience for viewers using ad blockers

Wikia is not accessible if you've made further modifications. Remove the custom ad blocker rule(s) and the page will load as expected.